Wheeler's Clown Historic Heroes

---
Joseph Grimaldi
1779 - 1837
---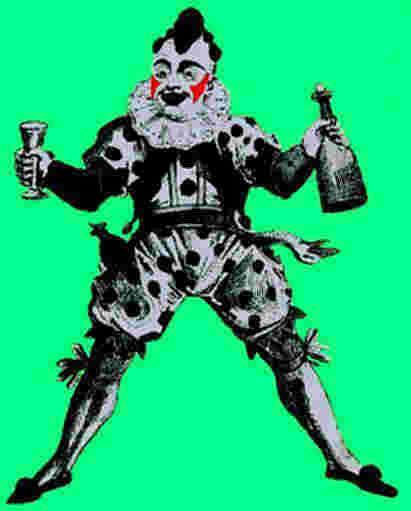 What clown in his or her right mind can possibly not include this great from the past on his or her clown list of favorites? Grimaldi is revered by most as the father of modern clowning. Indeed, in honor of this great man, we refer to ourselves as "joeys." But more than that, Grimaldi teaches a great lesson about being a clown, as illustrated by the following story. A man who was severely depressed went to a doctor for help. The doctor, after ruling out all physical causes (at least those known at the time), gave the following prescription. "Go and see Grimaldi. He'll cheer you up." The man replied,
"I am Grimaldi."
There is no better tribute to a master clown than that; the ability to hide his own pain and tears in order to bring laughter to those around him. It was only when his physical pain became too much to hide even behind the clown mask that Grimaldi finally retired from clowning. Grimaldi was strictly a theater clown who never performed in a circus or any of the other events we do today as clowns, but few clowns deserve more tribute. Clowns in Great Britain and Ireland still honor Grimaldi with an annual clowns' service, held in the Holy Trinity Church in Dalston, England. Attendees are always in full costume and merriment as they pay homage God and to this great clown.
---
Return to Wheeler's
Clown
Heroes
Yankee Dan Rice
1823 - 1900
---

Yankee Dan Rice did it all; clown, singer, strong man, animal trainer, circus owner. And he did it when the world was sorely in need of a clown's special talent, during the terrible American Civil War. The laughter he created was in great demand, and his salary ($1000 a week) was greater than that of his close friend, then president Abraham Lincoln. (Boy, if I could make more than George Bush I'd be a full time circus clown in a minute, wouldn't you?) In fact, one of his titles was "unofficial jester to President Abraham Lincoln"
But his friendships transcended the war. Yankee Dan Rice was equally good friends with confederate leaders Jefferson Davis and Robert E. Lee (a known fact which caused riots at some of his northern performances during the civil war). He wanted to bring his joy and laughter to everyone who needed it; North or South.
Yankee Dan Rice did not look like a clown as we picture them today. He wore no clown make up, had chin whiskers (I can relate to that part), and a variety of costumes (the most famous one being a striped costume) The Yankee Dan Rice phenomenon captured the attention of cartoonist, Ogden Nash, who poked fun at him with a caricature that eventually became a model for the U.S. symbol, Uncle Sam.
I have to mention Yankee Dan Rice's animal training talents. Among other feats he taught a pig named Lord Byron to pick an American flag out of a pile of various flags, and even trained an elephant named Lalla Roohk to walk a tightrope. He was famous for training mules; a pair of his trained mules would sell to other clowns for $5,000. He is also noted for training a rhinoceros and the circus staple; horses.
Yankee Dan Rice was very involved in improving the world around him in any way he could; he was active in political issues like the abolition of slavery, and even ran for, but never won, public office a couple of times; not at his own bequest but because friends who knew him wanted him to. Yankee Dan Rice was the ultimate professional clown; a man who lived to make things better and happier for those around him.
---
Return to Wheeler's
Clown
Heroes
Weary Willie, Sr.
1898 - 1979 (the great Emmett Kelly Sr.)
Click Here if you want to go to my personal history page of Emmett Kelly Sr. )
---

Think tramp clown and who comes to mind? I'll wager that to the average person, the answer is Emmett Weary Willie Kelly Sr. I know that as a youngster when I thought of clowns and the circus, the image in my mind was the unsurpassable Weary Willie. (later continued by son, Emmett Kelly Jr.)
I almost got to meet Weary Willie once, (Jr. I think) but I was in a hospital isolation room, and the female marine drill sergeant we had for an administrator wouldn't even let him wave at me through a closed window. Talk about a child's disappointment! I've never forgiven mean old Mrs. Horne for that lost childhood thrill!
Anyway back to the great Weary Willie. Here was the ultimate clown, with so many lessons of life to teach us in his hilariously funny yet sad and always silent way. Take his most famous routine of futilely trying to sweep the spotlight out of the circus ring. The lesson...he never gave up and never let the task wear him down. He never smiled, yet brought nothing but smiles to his audiences. I think that was because of his big heart. He loved children and they knew it. He even brought smiles to the faces of Nazi death camp child survivors whom he entertained shortly after the war. And when the circus entertained at a children's hospital during a measles epidemic, he found out that the contagious ward had missed the circus, but had one small window to the outside world. Suddenly, there was Weary Willie, hoisted up to the window peering at the children and soon bringing laughter to a once very sad group.
Weary Willie Sr. was a smart businessman too. We all know that clowns are not typically the highest paid performers in the circus (roustabouts even make more), but Weary Willie Sr. was. How did he do it? He simply struck a deal with the advance man. (The guy who travels ahead of the circus, exciting people ahead of time about the wonders about to hit their town) For a mere half of Emmett's meager pay, this advance man went into the town shouting, "The Barnum and Bailey Circus is coming, starring Emmett Kelly as Weary Willie the Clown!" When the circus finally arrived, who did the public want to see? Weary Willie of course! Soon Weary Willie Sr. was star status and the highest paid clown in the circus.
Weary Willie's legacy was carried on by Emmett Jr.,
(1924 - ) who has used the same character and name and carried on Dad's tradition of paying special attention to the children who most needed his talent. There is a controversy over whether or not Dad approved when son used the exact same character, although Emmett Jr. continues to do credit to the Weary Willie character.
Anyway, while we know there was a Senior and a Junior, and that they are both excellent clowns in their own right, Weary Willie Senior remains the king of tramp clowns (maybe of all clowns), at least in my book.
You can still watch the master in action. Rent or Buy the video The Greatest Show On Earth.
And Check out my links page for a great website about both Weary Willies, created by Joey Kelly, Willie Jr.'s son and (of course) the great Willie Sr.'s grandson.
---
Return to Wheeler's
Clown
Heroes
or
Lou Jacobs
1903 - 1992
Click Here if you want to go to my personal history page of Lou Jacobs)
---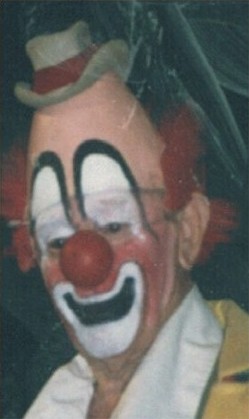 I'll admit Weary Willie is my favorite historic clown, but Lou Jacobs runs a very close second. Who could help but roar with laughter when that tiny car chugged into the circus ring, and out of it came a 6 foot plus clown, ready to delight us with his further antics, or when he interacted so comically with his partner of many years, Knucklehead the dog. I was so disappointed when his retirement was announced; l loved watching him so. Like Weary Willie Sr, Lou Jacobs can also be seen in the video The Greatest Show on Earth, and it was he who was chosen to teach the great actor Jimmy Stewart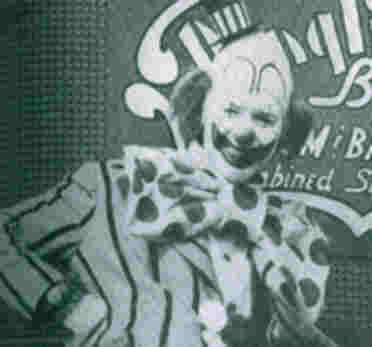 everything he had to learn about clowning for that film. Anyone who has watched the film knows that Lou loaned Stewart his trademark cone shaped head (and was still a mighty big clown even without it). Lou Jacobs was also very instrumental in the creation of the Ringling Brothers and Barnum and Bailey Clown College and was one of the professors and the headmaster for a time. How I envy those lucky souls who won the chance each year to learn from the master clown.
Lou's two daughters, Lou Ann and Dolly, continue the circus tradition, but not as clowns; hence Lou Jacobs is sorely missed, and will never be replaced.
---
Return to Wheeler's
Clown
Heroes
Albert Fratellini
1886 - 1961
---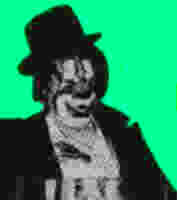 Albert Fratellini's influence over clowning is more dramatic than almost an other historic clown. Before his time, the "auguste" clown was a much different character. He wore very little makeup and oversized evening clothes (coat with tails,etc.) As part of a clown trio act with his bothers Paul and Francois, Albert needed to create a new kind of clown (his brothers were the traditional whiteface and auguste of the day). He came up with the type of face makeup that is now considered to be Auguste (some say he was inspired the Russian clown type R'izhii), and built his character around it. The face caught on and was "copied" by other clowns, (not completely as you know, because real clowns do not copy one another exactly) and has now become the model for all modern day auguste clown faces.
---
Return to Wheeler's
Clown
Heroes
---
---
Of my historic clown heroes, only Peggy Williams still lives (but no longer performs as a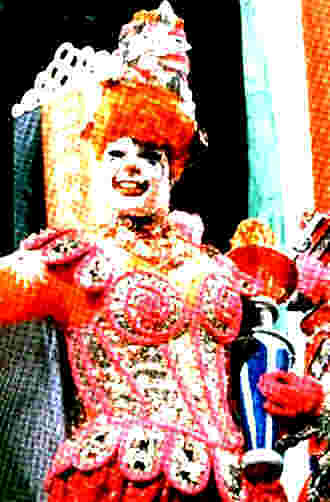 clown). She delighted us with elegance and glittering costumes, as the first lady of clowning for 10 years, but now devotes herself to the management and educational side of circus life.
What a lot of people don't know is that Peggy Williams originally had no intention of being a full time clown, but as a speech therapist, she went to clown college to learn how to communicate better with her hands. Peggy quickly discovered she had sawdust in her veins and was addicted to clowning. In 1970, she became the first female graduate of the clown college and was offered a contract to be a performing clown in the Ringling Brothers and Barnum and Bailey Circus. Peggy eventually returned what was given her by teaching at the clown college herself, and today is in charge of the circus education program of the Ringling Brothers and Barnum & Bailey Circus.
Peggy summed up clowning better than anyone I have ever heard when she said, "You think like a clown always, and it spills over into your everyday life."
---
Return to Wheeler's
Clown
Heroes
---
Coco Poliakov
1900 - 1970
---
Reading about the life of the great clown Coco Poliakov , one cannot help but be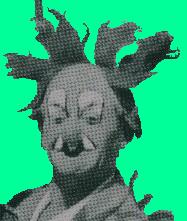 impressed. Coco was born in Russia, attending the Moscow Circus School, and was already a professional clown at the age of 11. He suffered many injuries during his lifetime, yet never let tragedy get him down. For example, in his younger days, he was balancing a Russian container full of hot water during a clown performance and it tipped and scalded him badly. He was back in makeup and character as soon as possible after the accident. Later, while in Great Britain, Coco was seriously injured in a pedestrian / automobile accident, and was hospitalized for several months. After his recovery, Coco developed an automobile safety routine which he regularly showed to the children of Great Britain. He was also in large part responsible for the creation of the world's first clown alley, International Circus Clowns Club (now the World Clown Association). Coco was 100% clown, and deserves a place in any clown Hall of Fame.
---
Return to Wheeler's
Clown
Heroes
---