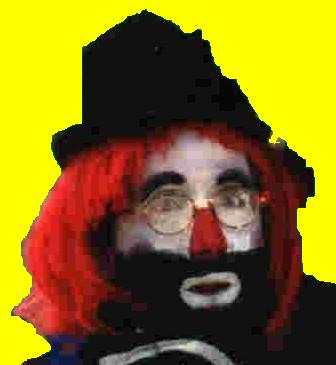 Hello fellow/sister Clowns, parents, and children of all ages. :I may not look it, but I am 24 years old. (Well, Dave K., my alter ego, is 511/2, but I'm 24).
Dave K. was born on Christmas Day. (Good time of year for a future clown to be born, don't you think?) He was born with a birth defect known as spina bifida (to learn more about this birth defect, you can click here) and spent much of his childhood in Shriners' Hospital in Salt Lake City Utah.
Dave loved it when the Shrine Clowns came to visit.They always brightened a dreary hospital stay (which in those day, averaged anywhere from three months to a year), laughed away pain and freely gave away smiles and joy. Dave K. grew up wanting to be a clown as well, to take his turn passing on some of those smiles and happiness, and erasing for at least a moment, any pain he discovered in someone else's body or heart.
For years the dream remained in the background, as Dave K. never quite knew how one goes about becoming a clown. In college, he roomed with a couple of "lipstick clowns" (people pretending to be clowns at birthday parties; in it for the money only, not the true purpose of bringing joy to those around them, especially children). Of course, that was no help; Dave wanted to be a real clown. After college, Dave even got to know some real clowns personally, but none of them took seriously his burning desire to pass on the love that the Shrine clowns had passed on to him. The dream seemed hopeless. Then one day, he saw an ad in a local newspaper for parade clown volunteers. Dave K. enthusiastically answered the ad, and . . .
Wheeler the Clown was born July 19,1980, just in time just in time to celebrate Salt Lake City Utah's Days of '47 (also known as Pioneer Days). These pictures show what Wheeler looked like back then. (By the way, Wheeler was born big; that's me as a new clown on the right, holding newborn Chuckleberry, and on the left holding the late Queen Kellheil, my canine companion of nearly a decade.)
The rest, as they say, is history and happiness. Wheeler began to grow and improve as I performed at numerous birthday and other parties and activities. I was privileged to associate with other clowns, including the local Shrine clowns who adopted me as an honorary peer. (One has to be a Mason to be a Shriner and a Shriner to actually be a Shrine clown. So far, I'm neither.) The highlight of those days was when the Shrine clowns invited me, as their adopted son so to speak, to be part of group clown skits performed locally at the Shrine Circus.
Wheeler's association with the Shrine clowns didn't end there. In 2003, Dave K.'s old childhood dream became true, as I began weekly visits at the Shriners' Hospital where he was incarcerated so often as a child. (Well, the building is different and the current administrator actually likes kids, but the location is the same). Health problems have recently kept me from doing this for a while now, but I can't wait to get back.
I have worked hard over the years to perfect my profession, attended several clownology classes and clown conventions, and have won regional awards for my balloon sculptures (always a big hit wherever I go) and for skits (visit my awards page for more info). I have performed at hospitals (children's and adult's), nursing homes, women's shelters, store grand openings and specials, shopping shows and holiday events, company parties and picnics, and of course, at numerous children's birthday parties.
People are sometimes shocked at the sight of a clown without legs and in a wheelchair, but I can almost always put them very quickly at ease, and children relate well to a clown they can see at eye level.
We (that is, Dave K. and I) have a beautiful wife and two great kids (now 23 and 19), and we love them more than life itself. I am always happiest when performing with my family. From left to right, that's Chuckleberry, Baby Bubbles, Ballooney and Wheeler in whiteface. The rest of the family have all moved on to other other interests besides clowning now, but I just can't seem to get out of all this greasepaint! (Just kidding, I'm a clown, because I love it!).
That's me today on the right, and a few of my other faces below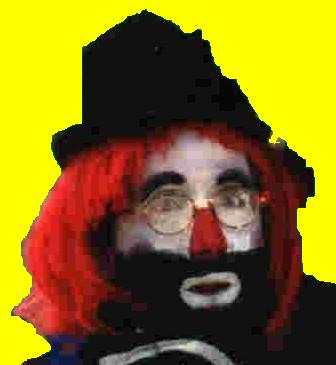 (King Klown the 1st and Scout Clown are two of my auguste / character faces). As you can see, My appearance changes from time to time. But two things will never change. I love children of all ages and I love being a Clown.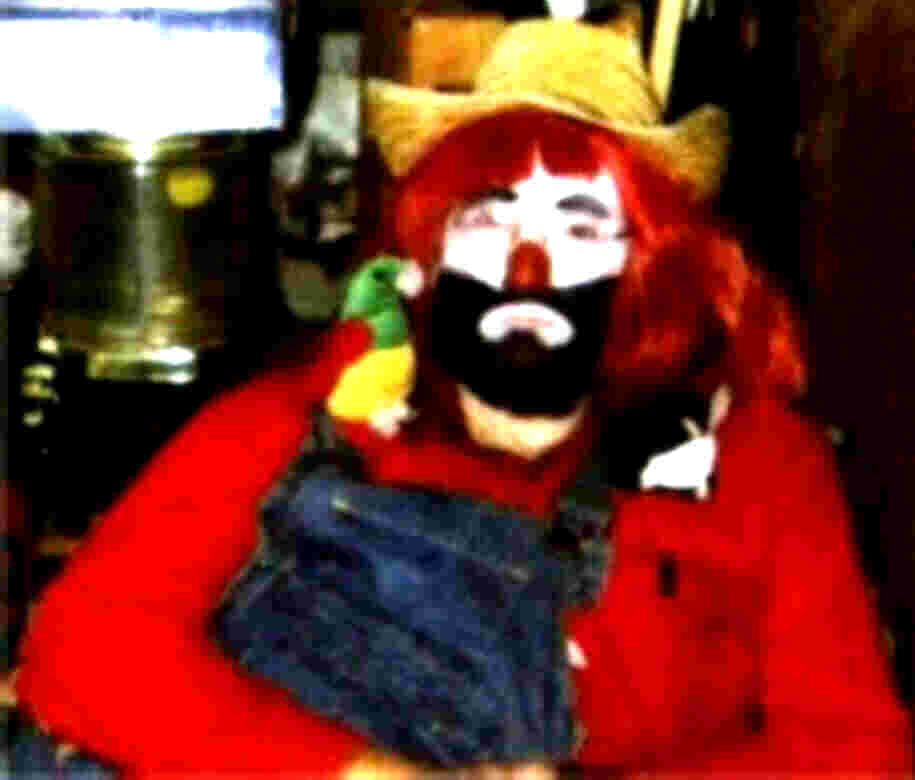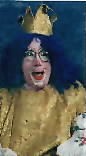 ---
Click Here to Return to
C
lo
w
n
Main Menu
or
Click Here to Return to Circus Main Menu
---
Spina bifida is an extremely common birth defect where one or more vertebras have not closed fully. Depending on the location of the vertebra involved, the resulting effects can be unnoticeable or quite severe. In Wheeler's case, the condition resulted in paraplegia (loss of movement and sensation below the waist and, later, scoliosis (spine curvature). Wheeler is now also a double amputee.
click here to return to Wheeler's biography or click here to read more about this birth defect.
This site was designed and is owned by

Wheeler the Clown & Company

All rights reserved

This Page was updated on: 07/18/2004